SUCCESSFUL EXHIBITING AT 118TH CANTON FAIR (1)
Click: 5075  Date: 2015-11-05 10:51:00  Comefrom: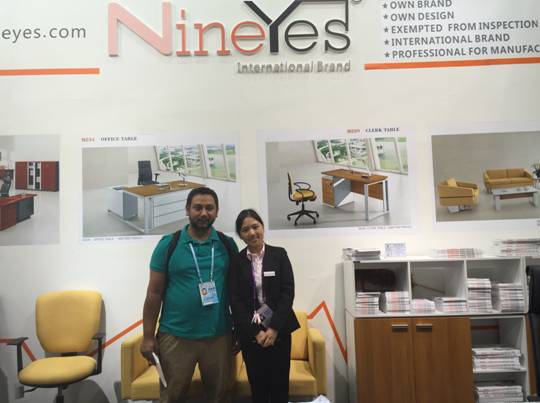 Milly with customer from oversea market.
What a successful attending in the 118th China import and export fair hold in Guangzhou was fully recognized by clients. Mr.Noor Khan, is a big importer of office furniture traded everywhere. Searched for the high quality supplier by attending all kinds of fairs many years but didn't find the right to satisfy his requirements until he met us. "Yes, this company with strong strength, that products with intelligent design and competitive price all what I always look for here."said by Mr. Noor Khan. Via further understanding from our Nineyes, knowed that all our products are free-inspection that can be ensured to get rid of for damaged and shipment delay while Customs check which enjoys popular support. "I will always keep in touch with your Nineyes." After long conversation ,ended by Mr.Noor Khan's words and handshake between us.
Kimball with customer from oversea market.
Mr Amit, Came from India, shows his great interested in our promotion products."Such a competitive price with good quality, I can't wait to visit your factory" Mr Amit holding our romotion store list and said.
Vicky with customer from oversea market.
Vicky with customer from oversea market.